Terminal Access Type InPCThinstationDW67

This is a thin terminal access client from the Ukrainian manufacturer InPC DW 67. The equipment is based on the VIA Epia ML6000EA platform, which provides wide functionality and capabilities for the user.
Benefits:
Design: provides several installation and mounting options on flat and vertical surfaces, even the back of the monitor. For variability, you can purchase additional wall mounts.

The client uses the x86 platform to expand the scope of application: as a print server, as a flash drive, connecting peripheral devices via RS-232 port and others.

To improve the cooling system, the design has been changed in comparison with other terminals: heat leaves the case without active operation of the cooler.

The full production cycle is deployed in Ukraine: development of new solutions, power supply, housing, assembly. The customer can choose the color and texture of the terminal as desired.
The terminal is equipped with universal software that is compatible with any type of peripheral equipment: scanners, fiscal registrars, printers, multifunction devices, scanner printers, barcode scanners.
InPC terminal DW67075, specifications:
Dimensions

Depth - 214mm, width - 209mm, height - 58mm;

Form factor

Chassis supporting motherboards ML6000 Mini-ITX, VIA EPIA ME6000

Mounts

Rectangle with four holes 5mm, dimensions 196.5x160mm

Weight

1400 g - net, 1700 g - gross

Package size

Width - 335mm, depth - 255mm, height - 80mm

Control

Located on the back of the case, includes:

on / off button;

socket for plug;

LED indicator of work.

The parameters of the environment

Temperature range from +50 to +400 Celsius

Case cooling

- not present in active form

Chipset

Southbridge - VIAVT8235M;

Northbridge - VIA CLE266

CPU

Model VIAC3

RAM

Maximum – 1 GB, model DDR 266 DIMM socket

Video system

Using the integrated VIA UniChrome AGP Graphics module, with MPEG -2 Accelerator

LAN

Ethernet PHY VIA VT6103 10/100 Base-T

Expansion slots

Single PCI

IDE

Two UltraDMA 133/100/66

BIOS

Award BIOS with 2MB flash memory

Connectors for connections located on the back of the chassis

two USB 2.0 ports;

twenty one VGA port;

one PS2 mouse port 1 PS2 keyboard port 1 Parallefport 1 RJ-45 IAN port;

three Audio jacks: line-out, line-in and mic-in (Smart 5.1 Support);

one serial port.

Connectors for connections located on the board

one SMBus connector ;

one ATX power connector;

one FIR connector ;

one Serial port connector for a second COM port;

one USB connector for 2 additional USB 2.0 ports;

one CD audio-in connector;

one Buzzer;

one Wake-on LAN connector;

one Front panel audio connector for Line-out and Mic-in;

three Fan connectors for CPU/Sys FAN/Fan 3.

Built-in audio

VIA VT1616 6 channel AC 97 codec

Standard colors for ordering

RAL9005 – Black;

RAL7032 – White.
InPC DW67 Client Terms of Use:
maximum user connection to one device - 30;

during installation and use in industrial buildings, you need to order equipment in a special case that is sealed.
Terminal Access Equipment NComputing L300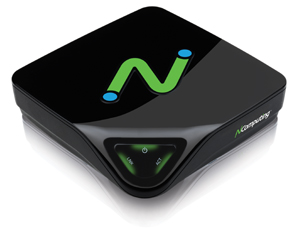 This is a terminal access client from the market leader NComputing, a company that creates virtual workspaces and desks.
The new model - NComputing L300 is designed to work with a full-screen image and rich color reproduction of the monitor. Among the features also - full-fledged video playback, smooth transfer of objects in motion. The device is suitable for transparent redirection of devices connected via USB, eliminates the possibility of failure in working with any peripheral objects.
The device software - vSpace - is designed to deploy a basic virtual space for work. Used by enterprises to organize the activities of employees with minimal resources..
Software Feature:
the possibility of regular modernization of the workspace;

open access to the terminal from computer stations with Linux and Windows;

the ability to integrate with virtual services for work, which are built on the basis of Microsoft, VMware, Citrix;

the function of transforming the user's personal desktop into a space for connecting another 30 people at a time.
The advantage of VSpace software is the ability to reduce the budget for creating virtual tables for employees, combine departments in a single virtual space to coordinate work. This reduces the cost of maintenance, equipment upgrades and replacing obsolete models.
Terminal NComputing L300, specifications:
Dimensions:

Height - 30 mm, depth - 115 mm, width - 115 mm.

Weight:

154,0g

Complete set of one order:

device model L300;

cord and power supply;

brochure with instruction manual;

CD-ROM with recorded software version VSpace;

fasteners for installing equipment on the rear panel of the screen.

Power consumed by the terminal

Constantly - 5 W, with connected or disconnected devices

Indicators

Power on device;

Readiness: pairing with a computer;

LAN connections.

Power supply

External, in the form of a power supply on a cord. Included in the order. Power - 12V

Internal filling device

Internal hardware

NComputing System-on-Chip;

basic firmware NComputing operating firmware;

no moving parts;

no cooler;

no flash memory.

Software for using the terminal

Ncomputing vSpace, supports the original Ncomputing UXP packet data protocol

OS with which the terminal is paired

Linux;

Microsoft Windows.

(more in the support section)

Data protection

There is no local storage of information. Access control - in the policy of the equipment or the user himself.

The number of users of one terminal

Maximum - 30, using the original NComputing Vspace software

Type of connection to the host computer

Via Ethernet 100 Mb/s

Screen resolution

Standard at 16 and 24 bit, 60 Hz

- 1600х1200;

- 1280х1024;

- 1024х768;

- 800х600;

- 640х480.

Widescreen at 16 and 24 bit, 60 Hz

- 1920х1080;

- 1680х1050;

- 1440х900;

- 1366х768;

- 1360х768;

- 1280х800;

- 1280х720.

Multimedia

supports acceleration of two-dimensional graphics;

video playback;

most video and image files are compatible with standard PCs.

Monitor power consumption safety

Supported mode if it is VESA monitors

Audio outputs

Input via mini-jack 3.5 mm;

Maximum working hours

More than 100 000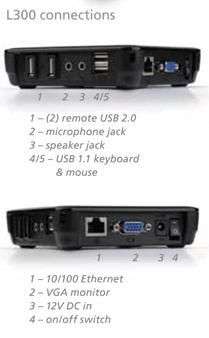 The terminal is specially designed for such purposes:
workspace equipment for office staff;

workspace equipment for employees of educational institutions;

workspace equipment for employees of regional offices;

creation of an Internet cafe management system;

creation of a workspace for employees of call centers.
The terminal is connected to other PCs via an Internet connection, because of this the remoteness of computer stations does not matter.
Form not found or is not published
Found a typo? Please select it and press Ctrl + Enter.