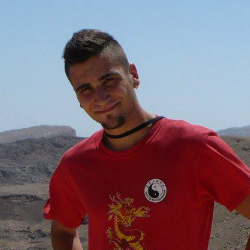 Engineer
Head of IT Infrastructure.
Great experience, instant reaction, crisis management.
Work experience :
2010
Cable installer
Organization "last mile";
2012
Safety engineer
Preparation and submission of reports;
2013
Chief Engineer
Setting up and maintenance of a PC fleet, local networks, network and peripheral equipment, office equipment. (more than 180 users, 10 regional divisions);

Software support (Windows All version, antivirus protection, Ubuntu, MS Office, Medoc, 1C: Enterprise, "League-Law" "Consultant", etc.);

Installation, configuration, administration of Windows-based servers (AD, DC, FTP, DHCP, Media Server, Terminal Server, Mail Server);

Audit, consulting on equipment selection, building server and local infrastructure. Inventory and classification of information resources, risk assessment;

Configure and support analog and IP telephony;

Assembling of SCS, installation and configuration of network equipment (routers, Wi-Fi access points), as well as telephone lines, wireless Wi-Fi bridges;

Virtualization based on ESXi, KVM;

Backups, data recovery, data encryption;

Maintenance of active network equipment (Mikrotik, Cisco, D-link, Ubiquiti);

Server maintenance (Supermicro, HP);

Registration, accounting, analysis of request from users, redistribution, diagnostics and troubleshooting (locally and remotely);

Design, installation, commissioning and maintenance of digital and analog video surveillance systems (NVR, DVR);

Design, installation, commissioning and maintenance of alarm systems based on centrals (Lun, Strazh, Satel);

Design, installation, commissioning and maintenance of system of turnstiles;
Education:
2005-2010 - Ukrainian State University of Chemical Technology
Specialty: "Chemical technology of inorganic substances";

Qualification: Specialist;
Key skills:
responsibility, organization, commitment, exactingness to oneself and others.
Found a typo? Please select it and press Ctrl + Enter.