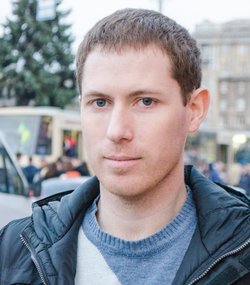 Engineer
Work experience :
August 2010 - August 2015
Chief Specialist, Department of Maintaining the State Register of Voters, Vasilkovskaya District state administration of the Dnipropetrovsk region
• Work in the automated information and telecommunication system "State Register of Voters" ; Installation, configuration and administration of Windows 95/98 / ME / 2000 / XP / Seven;
• Installation of the mail server "IBMLotusNotesDomino", and its maintenance;
• Construction and modernization of local networks;
• Repair of office and computer equipment (printers, MFP, computers)
• Installation and configuration of ASD DOCK PROF 2.0;
• Maintenance of the database "Children".
Education
2007 – 2010
Dnepropetrovsk College of Welding and Electronics named after E.O. Paton
Maintenance of computer and intelligent systems and networks

2010 – 2015
Dnepropetrovsk National Mining University
Computerized control systems and automation.

2015 г. - currently
Dnipropetrovsk Regional Institute of Public Administration of the National Academy of Public Administration under the President of Ukraine.
Government Manager.
Key skills:
• ready to work on business trips
• I do not have any bad habits
• stress resistant
Found a typo? Please select it and press Ctrl + Enter.