The company «System Integrator» offers a full range of services in the field of IT-consulting and outsourcing, comprehensive maintenance of IT infrastructure, solving business problems, automating business processes, and optimizing the costs of using IT services.
Our intellectual capital is professionals who have received a high-quality education and have gained extensive experience in the field of information technology.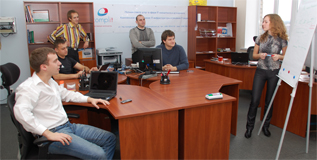 Our role
We provide completed projects and strive to ensure that our client receives a full range of services from one source.
Our comprehensive approach to solving tasks has the following advantages:
close integration of all applied solutions;

full responsibility for the implementation of various components of the system project in the person of one supplier;

a look at the client's business as a whole. The possibility of choosing the solution that is most balanced in terms of adaptation and scaling;

accompaniment of all system components throughout their life cycle.
Our technologies:
building a server infrastructure with remote access, systems "remote desktop";

deployment and transfer of servers outside Ukraine;

organization of secure data transmission channels between objects. Communication with each other and with servers outside Ukraine;

setup of active network equipment, devices manufactured by Mikrotik, Router OS and Router board;

telephony (digital, analog, IP);

infrastructure solutions (based on Microsoft, Novell, IBM, Open Source; terminal solutions);

networks and data transmission systems (Molex, Nexans, OK-NET, Legrand);

information protection (organization of secure data transmission channels, deployment of secure storage systems);

building infrastructure (systems "Smart Home" based on Legrand and Bticino);

maintenance of information systems (on-line technical support);

audit of information systems (licensing, risk assessment, performance assessment).
Our future
The advent of information technology in the field of infrastructure systems and solutions is inevitable. Our task is to be one of the leaders in the market of services in the field of information technologies of our country. We want to develop the economy of Ukraine with our own example and personal contribution.
Found a typo? Please select it and press Ctrl + Enter.